When you're considering options for increasing your property valuation – an ADU may seem like a logical choice. However, among the myriad of options and details involved, one question often comes to mind. How much value does an ADU actually add to your property?
This can be a pretty tough question to answer with a concrete number unless you work with a professional company that can help you plan out every detail, including the design work, permits, and even patch-in quotes from local contracting firms.
So, to help you get a sense for the ins and outs of how an ADU may affect your property value – we've decided to write this quick, comprehensive guide to help you get the information you need to predict whether or not an ADU would be a good investment to up the numbers.
Let's dive right in!
What is an ADU? 
An ADU is a secondary living area attached to, or built on the property of an existing residence. They are used to generate income or provide an additional living space. 
There are three main types of ADUs that we'll be looking at in this article: attached, detached, and interior conversions. Furthermore, these three types have different sub-types to categorize them further. 

Attached ADU
Garage conversion (if the garage is connected to the house)

Second-story additions (this can be on the house itself or on the attached garage

New additions to the home itself

"Mother-in-law suite"
Detached ADU
Garage conversion (when the garage is separate from the house)

New construction (building from the ground up)

"Backyard cottage" or "granny flat"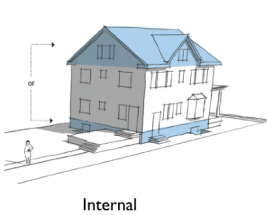 Interior Conversion
Basement apartment 

Attic remodel 

"Junior ADU"
How Much Does it Cost to Add an ADU? 
The cost to build an ADU is a bit difficult to generalize. There are so many different types of ADUs, and each one requires a wildly different amount of work. 
For example, converting your garage into a new space could cost anywhere from $30,000 to over $60,000. Whereas, a brand-new addition to the home could cost between $50,000 to $100,000, if not more. And to top things off – we've seen the total cost for a backyard cottage built from scratch going as high as $360,000 in some rare cases.
While the majority of the cost would come from the construction phase of the project, you should also account for design, planning, getting the necessary permits, surveyor costs, and other costs associated with getting everything in order before you start building.
The best (and easiest) way to get a concrete handle on what you should expect to pay is to consult with an ADU design firm such as ours. These companies have many years of experience in the field and know the process like the back of their hand!

So, How Much Value Does an ADU Add?
Having gotten an idea of what the costs could look like – many people might feel like it all seems like a huge expense. And at this point, you might even be wondering if building an ADU is actually worth it. 
An ADU adds value to both your life, as well as your property. This could come in the form of additional income from renting it out, or even a significant boost to your property's value. And if you choose the right type of ADU, budget correctly, and have the right team helping you along the way – converting a part of your property into a new living space could potentially be one of the best investments you'll make!
Let's take a look at some of the more straightforward ways that an ADU project can add value to your property.

It Can Generate Rental Income
The most common reason that homeowners embark on an ADU journey is to generate additional rental income. 
Whether you're struggling to cover your mortgage or are financially solid, extra income is nothing to shirk at. In fact, detached ADUs can be so lucrative that the rent will cover your mortgage and other housing costs. This means you essentially get to live for free as you pay off your loan! 
This is especially true if you have the space to build a 2-bedroom 2-bath unit. This would increase your potential rental income by a significant amount and make it much easier for you to rent the space out as well. Given you choose the right architect for the job and they have the appropriate experience, it wouldn't cost much more than a single bed and bath unit. This is by far the most highly recommended route as you can gain up to $3,000 extra income per month, depending on your location. 
That seems like a no-brainer, doesn't it? 
Look into your zoning capabilities and figure out if you qualify to build an ADU of this nature. And if you're all set – you definitely won't regret it!
Will It Be Easy to Rent Out An ADU?
Given the steep trend of rent averages in the Los Angeles area, it is no surprise that ADU vacancies are filling like hotcakes, and homeowners are making a significant amount of money from their rented units. Your ADU is well worth the investment, as it will most likely fill almost immediately. 
While this may seem hard to believe, the housing market makes this possible. Trends show that more than 75% of homes house 1-2 person families. These houses, however, were built back when 3-4 person families were the average. This rate has been declining for several years, and nowadays, most families are small and do not need the amount room that an ordinary single-family home generally offers. Instead, they're looking for something smaller and cheaper. Something exactly like your newly built ADU!
Generally speaking – the income generated from your ADU will not only cover maintenance and utility costs, but it will also pay for itself in as little as a few years – dependent on market fluctuations, of course. 
If you want to calculate how long it will take your ADU to pay itself off, there are several calculators available online to help you out.
Also, if you choose to finance the construction of your ADU rather than pay it in cash, the rent generated by the ADU can even cover your loan payments for the ADU itself while still covering a range of other costs (and potentially your living expenses along the way). 

An ADU Will Add to the Value of Your Property
ADUs not only generate monthly income, but they also increase the resale value of your property! 
When done right, detached ADUs, in particular, have the potential to increase your property value by a whopping 20-30%. That's staggering! Even more astonishing, your ADU can give you a practically instant return – we've seen some projects add double to the property value compared to the building costs. 
However, it's important that when designing and building your ADU, you keep the rest of your property in mind. If the new space looks out of place or appears awkward compared to everything else, it can actually decrease your property value a bit. In contrast, if your ADU is built in a stylish manner and fits in with your home and neighborhood, it will have an amazing effect on your next valuation! Furthermore, if your home is the only one on the block with an ADU, your property value will correspondingly increase. 
An ADU Can Create an Investment Opportunity
Building an ADU on your property doesn't only generate monthly income or raise your property value. It can actually be sold separately from your property! 
ADUs are perfect for first-time real-estate investors who don't quite have the monetary strength to dive into the "open waters" comprised of multi-family homes and condos, among other financially hefty properties. 
And who says you can only have one ADU on your property? With the new guidelines effective in 2020, you will be able to build a second ADU on your lot. More specifically, you will be able to build one full-size ADU (1,200 sq ft) and one junior ADU (500 sq feet) on your lot. This means two ADUs generating two streams of income, at the same time increasing the value of the property.
This is also an amazing opportunity for investors already in the field. If you own 5 or 10 properties that already bring in revenue, imagine what adding an ADU to each property can do to both the rental income generated as well as the equity of these properties. Opportunities like this don't come around very often! 
In short, adding an ADU to a property is a great investment, whether you're a homeowner looking to generate some extra cashflow or an experienced investor. 
Conclusion
All in all, the value that an ADU can add to your life is limitless. It all depends on your reason for undertaking the project and what you expect to get out of it.
In other words, it can be as profitable as you choose to make it. As said by Armstrong Williams – "You know what they say, real estate provides the highest returns, the greatest values, and the least risk."
If you need help getting started, or would like to get a professional opinion on your planned ADU look no further. At Architects LA, we're the go-to ADU specialists for the entire Los Angeles area. We've got over a decade of experience in bringing some of the most high-profile and complex projects to life. We strive to make the entire process leading up to construction a total breeze for the owners. And we'd love to help you as well!