If you're considering building an ADU in Los Angeles, the cost is probably one of the first questions in your head.
And what an important question it is! 
Chances are, however, you may not be someone already in the field, or don't have a reliable and honest source of information.

As such, it can be pretty hard to find out the true costs lying in wait, as you plan your ADU project.
And that's exactly why we've decided to help you out by putting together a comprehensive breakdown of the average ADU cost in Los Angeles.
Keep reading to learn about the most important stages of your project, the average costs behind them, and things to watch out for to keep your costs low.
What is an ADU?
An accessory dwelling unit (ADU) is simply a secondary living space on your property.
Generally, an ADU can either be attached to your home or detached as a stand-alone unit of its own. 
In fact, there are multiple types of ADUs, and depending on which one you choose, your costs will fluctuate quite a bit.
That's why it's important to consider your needs and your budget when determining which ADU is right for you. 
First, let's look at attached ADUs.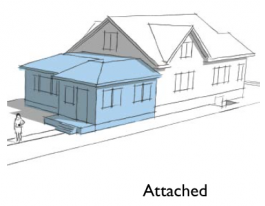 Interior Conversions
These ADUs go by several names: basement apartment, junior ADU, and the more famous "mother-in-law suite".
This is one of the most common types of ADUs. They are less expensive to build and are generally easier to obtain permits for, since the unit is inside the boundaries of your existing home.
Second-Story ADU
These additions are built on top of your existing residence or garage to add a livable second floor.
While more costly and time-consuming than interior conversions, these ADUs offer more privacy and greatly increase the square footage of your home, thereby increasing property value.
Now, let's take a look at detached ADUs.
Backyard Cottage or Granny Flat
These detached ADUs are built as a stand-alone unit on your property, entirely separate from your home.
Backyard cottages are built from the ground up and thus require extensive planning and design-work by a professional company.
These ADUs are also more difficult to obtain permits for since they are a stand-alone building and require construction from the ground up.
However, these ADUs greatly increase your property value and are the ideal choice if your decision to build an ADU is financially driven.
Additionally, it's worth noting that garage conversions can be either attached or detached ADUs.
Not only are garage conversions one of the most popular types of ADUs, they are also one of the cheapest.
A garage conversion simply helps you turn an existing garage into a livable space.
Whether the final space is considered an attached or detached ADU simply depends on whether your garage is attached to your home, or if it's a stand-alone unit, to begin with.
What are the Steps to Building an ADU? 
So, now you may have a pretty good idea of what type of ADU best suits your needs and budget. What comes next?
Step 1: Design Your ADU
It's highly recommended that you use a professional company to design your ADU.
The last thing you want is to begin construction and realize something in your plan won't work or is not up to code.
Though it will cost a little more upfront, it can save you tens of thousands (if not hundreds of thousands) in the long run!
The benefits of a properly designed space far outweigh any upfront design fees that you may have to pay.
Step 2: Obtain the Permits for Your ADU
For any kind of construction project on your property, permits are a necessary part of the process.
Arguably, this can be the most difficult part of the process.
In order for your application to be successful, you must make sure your design and engineering documents line up with city requirements.
This means your plans may need several revisions before the city can move forward with the approval.
Many ADU design companies will obtain the required permits for you so that you can avoid the hassle and complications of having to try and decipher the process yourself.
These companies know what you need and how to get it done correctly on the first go. Therefore, if it's in your budget, let them do it for you!
Bear in mind that getting the project done without approval is illegal and can land you in a lot of legal hot-water down the line.
Step 3: Build Your ADU
Now that you have the design and necessary permits for the project, you can hire a contractor and begin construction of your ADU.
The construction process generally takes roughly 2-3 months, depending on specifics and complexity the ADU.
Once finished, you can reap the rewards and enjoy the benefits of one of the most advantageous investments of your life!
Now that you have a pretty clear view of the process ahead and the steps you need to take, let's have a look at the costs associated with each step.

How Much Does it Cost to Design an ADU in Los Angeles?
Designing your ADU is perhaps the most important part of the process. Without an accurate and complete design, the cost of construction for an ADU can increase dramatically. 
A skilled designer can turn even the smallest space into a desirable living area. They know how to optimize the square footage requirements of all types of ADUs and can get you the most bang for your buck. 
As a result, it is important to hire a professional and experienced company to design your ADU for you. This is not the kind of project a handyman can handle on their own!
Hiring a firm to design and obtain permits for your ADU can cost anywhere from $4,000 to $10,000 and up.
While this may seem like a lot upfront – architectural designers are trained to make every square foot count.
They know how to layout your space to keep it both optimally livable and lovely while keeping it in-line with bylaws and building codes.
Without a professional designer, you could end up with simple errors or additional requirements during the construction phase. Some of these can easily cost upwards of $20,000-30,000. 
In short, hiring a professional designer can save you tens of thousands of dollars and will ensure you get the job done right the first time around. 
How Much Does an ADU Permit Cost in Los Angeles?
Getting the right permits for your ADU accounts for a small chunk of your total budget.
In general, the ADU permit cost includes a plan check fee and a final permit fee paid to the corresponding city in Los Angeles.
The plan check fee is paid before the plans are checked by the city. Plan check fees can range from as low as $800 to above $1,800 depending on the city.
The final permit fee is paid when the permits are ready to be issued, and can cost anywhere from $1,200 to over $13,000, depending on the city.
As always, we suggest you check with your ADU company to get a better understanding of the fees for your project.
Keep in mind, these costs increase exponentially for new construction or projects with a higher valuation. 
While getting the right permits for your ADU may seem like an unnecessary hassle and waste of money, it's one of the most crucial steps of the process.
Making sure you qualify under all zoning legislation, bylaws and building codes will save you BIG headaches in the long run. 
For a more exact estimate on permitting your ADU, you can get in touch with us, and we'll be happy to help!
How Much Does It Cost to Build an ADU in Los Angeles?
Building an ADU is a costly endeavor. They take as much work and skill as building an ordinary house does. 
This question, however, is not an easy one to answer, as there are countless factors that decide the total cost of building your space.
It is impossible to estimate the average cost of construction, just due to the vast differences between the different types of ADUs you could consider.
This is where you'll need to consult with your contractor and gather a mixture of quotes based on your designs and blueprints.
A case study of a detached 2-story ADU complete with two bedrooms and 1.5 baths ran a staggering $361,358. This, however, is definitely on the high end of the spectrum.
Most new construction ADUs can cost anywhere between $100,000 to $350,000.
On the contrary, the average cost for a garage conversion or basement ADU is much more reasonable at around $30,000 to $75,000.
This is because no new construction is involved, and it is generally just a conversion of the existing space.
The cost of these projects also depends on the companies you choose to hire to help you throughout the process.
How to Find a Cost Efficient ADU Company in Los Angeles
Choosing the right company for your project is perhaps the most important decision you'll make in regards to your ADU.
Working with the right company will save you thousands of dollars in overall costs for your ADU project. 
When deciding which company is right for you, there are several key aspects to keep in mind.
Relevant Experience
The company you choose must have relevant ADU experience.
Designing an ADU is a tricky feat. The concept of space is even more important given the square footage restrictions for an additional unit on your property.
You need an experienced team who understands how to maximize your space while keeping it entirely compliant and permissible.
More importantly, a properly designed plan can save you thousands of dollars during the construction phase.
If the plans are not efficiently designed by an experienced firm, you will end up spending extra money in the construction process.
Open Communication
It is crucial that there is a basis of trust and good communication between you and the company you bring onboard.
Make sure they understand everything you want as well as how much you can spend.
They should be willing and able to work within your budget and help you get everything you want in place.
Along with this, your company should openly ask questions in order to really understand your needs and what the space will be used for.
This indicates that they are ready to work with you and really want to get to know the project, to help you get exactly what you envisioned.
What Services Do They Offer?
A good ADU design company generally offers more than a simple design of your space. 
They should walk you through the process and help you obtain all necessary permits for your project.
This means performing the design work while giving you tips about how you can get the most out of your investment.
In addition, a good firm can provide advice on how to look for a reliable contractor to build your project.
In short, the company you choose should have skills in all areas of ADU design and planning. 
Closing Thoughts
Building an ADU is a big decision and an even larger investment.
The cost of building an ADU in Los Angeles can vary, depending on the city and the size of your project.
If you work with the right people, follow the right steps, and make the appropriate investment upfront, your ADU will cost you less in the long run.
Make sure your project is a success by choosing the company that's right for you.
Do your research and request a free consultation to get a feel for how they operate. 
Here at Architects LA, we help our clients handle every step of the process up to the point where you're ready to build.
We'll help you invest your time where it matters, while we make the design and approval process seamless, painless, and easy.